UTAX have the Solution
We address your customers' challenges by developing bespoke process solutions for documents, information and IT. Based on our core business, the document business, we continuously develop our portfolio with leading edge innovation and products such as the introduction of mobile solutions and cloud services that pave the way for flexible, mobile employees. For successful solutions sales you need three things: a compelling and wide range of products, technical expertise and persuasive selling points.
The Team
Our Solutions Team is on hand to provide you with a complete service, from initial discussions with your own pre-sales team and customers, throughout the entire sales process to installation and ultimately, post-sales support.
Our approach involves you at every step of the process supporting you as much as you need (or want). We are uniquely placed to be at the heart of the issues, pulling together both hardware and software, enabling you to offer anything from a simple time saving application on a single MFP to a large MPS installation across multiple sites and devices.
Synergy Partners
Each customer's situation is different. However, our goal remains the same: to make your customers' processes as efficient as possible. To fulfil this task, we not only look to our own portfolio of proprietary products, we also carefully select third party vendors whose solutions not only meet our exacting standards but also provide cost effective and reliable answers. Together, we ensure the right information, for the right person, at the right time, at the right place.
Solution Packs
Our software packs are essentially a mix of software, hardware and professional services that, when combined, produce a package of products bespoke to the clients' needs with the flexibility to adapt and scale as required.
These packs are designed to give market leading, affordable software solutions that complement each other as we know that there is not a 'one size fits all'. They are designed to be supplier-agnostic allowing the customer's needs to drive the solution rather than a specific product. We offer a range of packs designed for specific functions or vertical markets:
ScanPack
Designed for organisations moving towards digital office and digital archiving; digitising their information and freeing up valuable physical space.
ProductivityPack
Ideal for public institutions such as schools and government agencies and industrial companies – each with at least two central MFPs.
SecurityPack
Perfect for all who work with personal and / or sensitive data e.g. within hospitals, government agencies, lawyers and accountants.
LegalPack
Specifically designed for legal organisations include solicitor practices and chambers, who not only hold sensitive documents, but have a requirement to accurately account for and charge for document output.
HealthPack
Created with all private and public healthcare providers including clinics providing any patient facing services, such as opticians and chiropractors, not forgetting dentists and veterinary practices!
EduPack
Designed for education establishments of any size, as well as community projects and charities that provide education services, ensuring that Student / Staff printing and scanning is kept, and billed, separately and that print policies can be enforced.
GovPack
Great for any government body, NGO or department associated with government agencies and working within set procurement processes and IT constraints.
CivEngPack
Created for building, civil engineering and construction companies that have a large number of mobile users and sites that scale up and down.
CorpPack
The CorpPack provides a market leading choice of products and services to meet and exceed the requirements of today's flexible corporate business.
CharityPack
The CharityPack provides everything required to provide savings and accountability no matter what size of organisation.
Solutions Partners
UTAX Solutions Partners are authorised partners who have demonstrated a commitment to selling UTAX Software Solutions as a key part of their own portfolio. If you are a UTAX Partner and are interested in more information on the benefits of the UTAX Solutions Partner Programme, for your organisation and your end users, please contact your Area Sales Manager or email solutions@utax.co.uk.
Solutions Authorised Re-Sellers 2023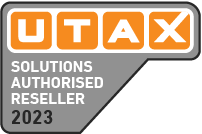 For 2023 the following companies achieved this status:
Copymoore Limited
EMS Copier (Services) Ltd
Solutions Partner 2023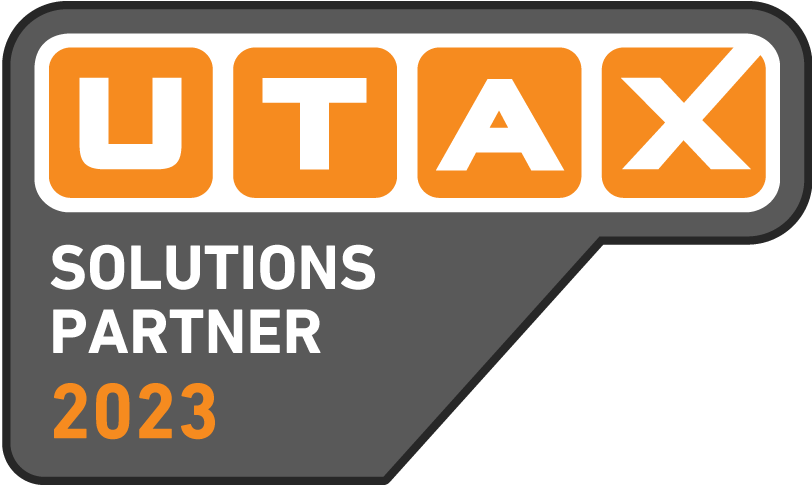 In 2023, Document Data Group achieved this status – Document Data Group are an award-winning organisation established in 2007 based in central Scotland, delivering a unique portfolio of solutions across the U.K. They have an enthusiastic and experienced team and pride themselves in providing print solutions, document management, finance automation and IT Services.
UTAX Premier Partner 2023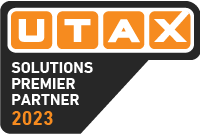 The last partners to achieve this status were in 2019 when Document Data Group and EMS Copiers achieved this Solutions status.
Document Data Group were awarded this status – Established in 2007, Document Data Group pride themselves in providing Print and Document Management Solutions and are fast becoming industry experts for assisting SME's to be fully compliant, secure and efficient with all documentation from initially printing through passing this information throughout the office and secure storage. Document Data were awarded UTAX Solutions Partner in 2017 and have been awarded Solutions Premier Partner for the past 2 years.
In 2019 EMS Copiers were awarded this status – EMS Copiers have been reducing printing costs in Ireland since the 1970's, and has established a reputation among both the commercial and education sector for quality of equipment and service that is second to none. Since the 1970's the printing industry has evolved at a rapid pace and EMS Copiers has always been at the forefront of printing solutions. EMS Copiers were awarded UTAX Solutions Partner in 2017 and have been awarded Solutions Premier Partner for the past 2 years running.