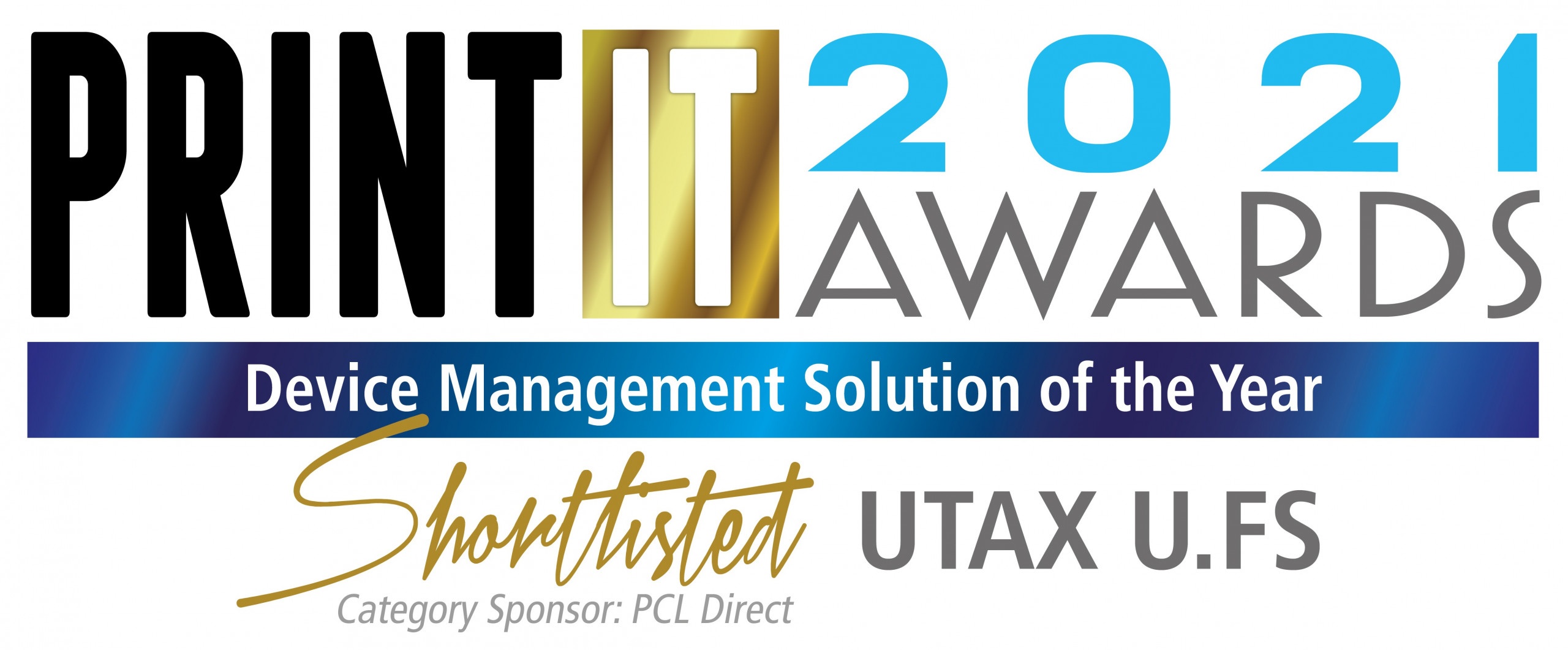 We are incredibly excited to have UTAX Fleet Services (U.FS) shortlisted for the Device Management Solution of the Year in the Print IT Awards 2021. U.FS is a solution that we are incredibly proud of at UTAX, not only because it goes beyond what regular fleet management solutions provide, but because of the brilliant results our partners benefit from after adopting it.
---
In fact, we love it so much that we use it ourselves.
We use U.FS in our multi-faceted direct service operation, where we offer bespoke levels of support to our partners, so one person who really knows the benefits of U.FS is our Technical Services Manager, Phil Russell, who benefits from its capabilities every day.
We managed to grab five minutes with Phil and ask him about his first-hand experience of U.FS, and here is what he had to say.
"We have been using U.FS for some time now with our direct service operation. We use it to triage every one of our customers services calls and start an investigation into the potential cause of the problem. It is also possible for us to check machine reports and make adjustments in both the user and service modes.
This has enabled us to resolve over 45% of service calls remotely without the need of visiting the site. This not only means a cost saving to the company, but also means that the issue is resolved much quicker for the customer.
Also, things like firmware updates can be done remotely and scheduled to update out of hours, meaning reduced downtime for the end user. The interface is clear and easy to use so makes for an invaluable addition to anyone's service department."
As you can tell from what Phil had to say, this is a solution that is valued throughout the company and something that has allowed us to change the way we work. This has been especially meaningful over the last 18 months, where being able to diagnose and fix devices remotely has been indispensable, and allowed us to maintain the high level of support we always strive for during a very difficult time.
But what do our Partners have to say?
We also get excellent feedback from our partners about the impact U.FS has made on their service departments and businesses. Here are a few extracts of feedback we have received.
"The rollout of UFS across our UK wide fleet of equipment has transformed the level of service we provide to our clients. Through being able to remotely connect to our customers machines, our service department have cut our response times by an average of 68.4%.
Firmware upgrades, configuration changes, maintenance procedures along with automated meter readings and low toner alerts are all handled without the need for engineer visits. Thus, the machines uptime is increased substantially. This subsequently has a very positive effect on our first-time fix rate."
"U.F.S has become a fundamental tool in optimising our operation and increasing profitability. It is fully aligned with our vision of providing value added services to our customers. During these atypical times of Pandemic, U.FS and its ability to reduce the number of technical services visits, offers the possibility to deliver operational continuity without jeopardizing our employees and customers safety."
As you can tell, we are incredibly proud of the U.FS solution and the impact that it has made not only on our own business, but the businesses of our partners as well, and we are extremely excited to see it be shortlisted for the Print IT Awards.
---
Print IT Awards 2021 – A4 and A3 Vendor of the Year
We have also been entered into the Print IT A4 and A3 Vendor of the Year Award which voting is now open for, so if you have a spare minute you can vote for your Vendor of the year using the link below.
Print IT Awards 2021 – A4 and A3 Vendor of the Year
---
Find out more about our U.FS Solution here.
*Figures correct as of August 2021.